Caribbean File Storage Aruba N.V.
Industrial destruction of documents.
Destroy a file is quite different than simply throwing it in the tray. A file destruction is something that must be done carefully. Turn on the expertise of Caribbean File Storage Aruba NV (CFSA).
CFSA has experience in file destruction. CFSA shall take all necessary precautions when it comes to destroying your files. The paper will be transformed into unrecognizable shreds. By meeting stringent requirements CFSA is a reliable partner for destruction of sensitive company information. You can give us the destruction of files on them.
Companies and institutions produce annually to hundreds of thousands of documents with confidential data. Behaves like for instance: business intelligence, records, ledger and old records that you no longer want. In these cases you can start thinking about records destruction by a professional organization. The paper shredder can be reused, for example, to make pulp for the production of virgin paper.
Archive destruction by CFSA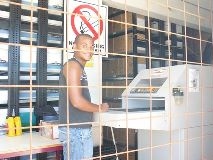 At the expiration of the statutory retention of records stored at CFSA or other reasons may be commissioned by the owner to clean up the archive. We will make sure that your files are eligible, are reliably destroyed.
Note: CFSA NV acts here only on your behalf and is not responsible for possible, or not fully, comply with statutory retention periods for available materials or other obligations that the owner / sponsor event might have.
Paper Destruction: How is this process?
The shredder shreds your documents on postage stamp size, or small pieces or strips. This will remove all destroyed confidential documents absolutely unrecognizable. The device shreds the paper through it lengthwise into strips and then cut transversely. In fact means "shredding", cutting into small pieces. From paper cut in lengthwise, no more words can be read. The paper strips from sticking together again is a very difficult job, especially when the remains of several documents have been mixed.
CFSA destroys your documents according to DIN 32 757 standard
Class 3: Confidential documents.
Strips 1.9 mm wide.
Scraps of 3.9 x 30 - 50 mm.